What is this food co-op, exactly?
It's a way to get meats, dairy, frozen foods, cereals, bars, mixes, and even flours and drinks at deep discount, often less than wholesale.
Here's an example of some of what was available last time.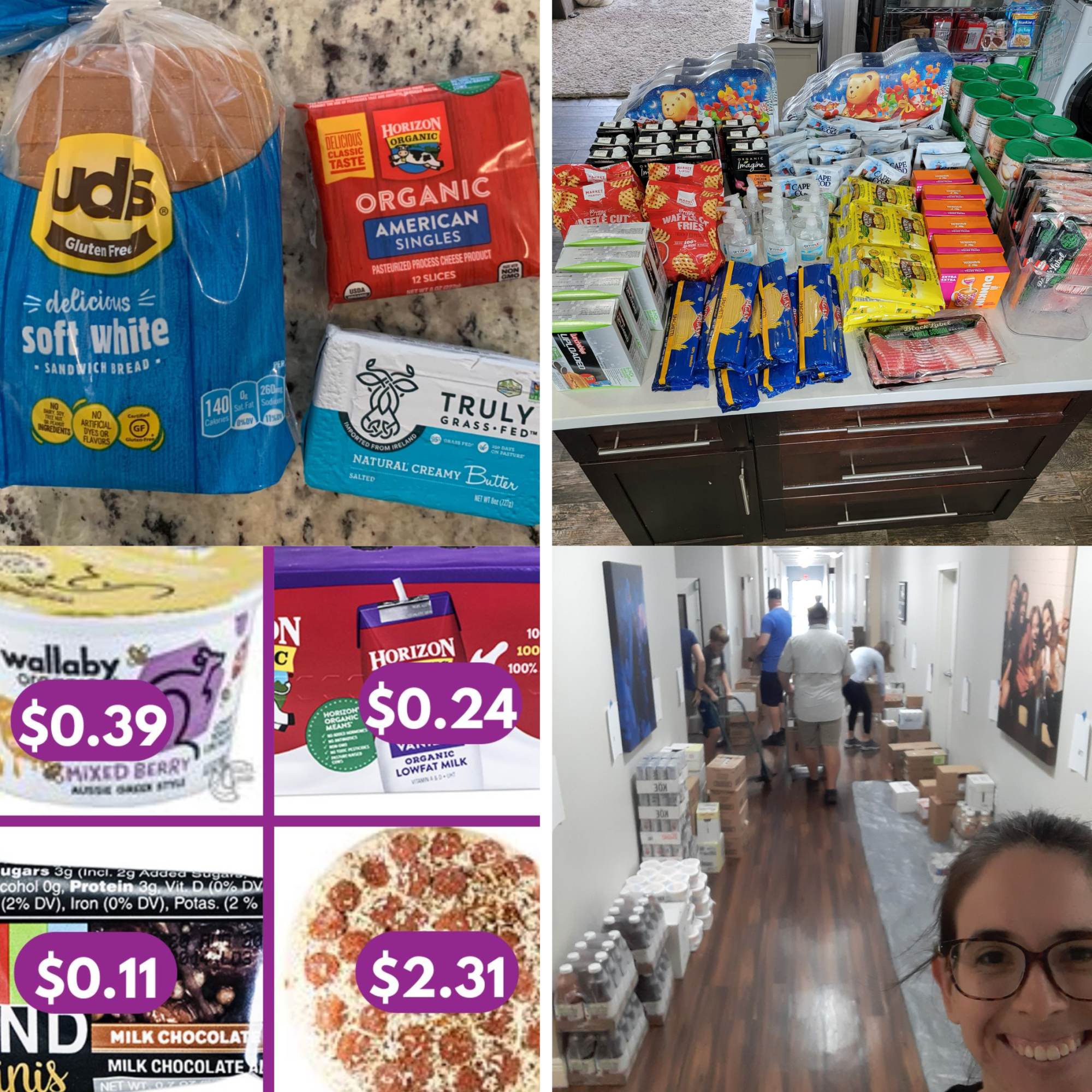 Think Costco sizes, for actual wholesale prices or less.
The exact items available each week vary, based on what Denver Wholesale buys from suppliers and grocers; however, there are always multiple items in each category. In addition to cold and frozen foods, there are canned foods, boxed foods, paper products, and even home and personal products. We've even seen seasonal items like huge candy advent calendars for less than a dollar each!
Q&A
What is a food co-op?
Co-op is short for "Cooperative." This means we all work together to make something happen! In this case, we are a group of families working together to get purchasing power and wholesale pricing, placing one BIG order with the company and receiving and separating it out amongst ourselves. Nobody is paid or making a profit; we are a team!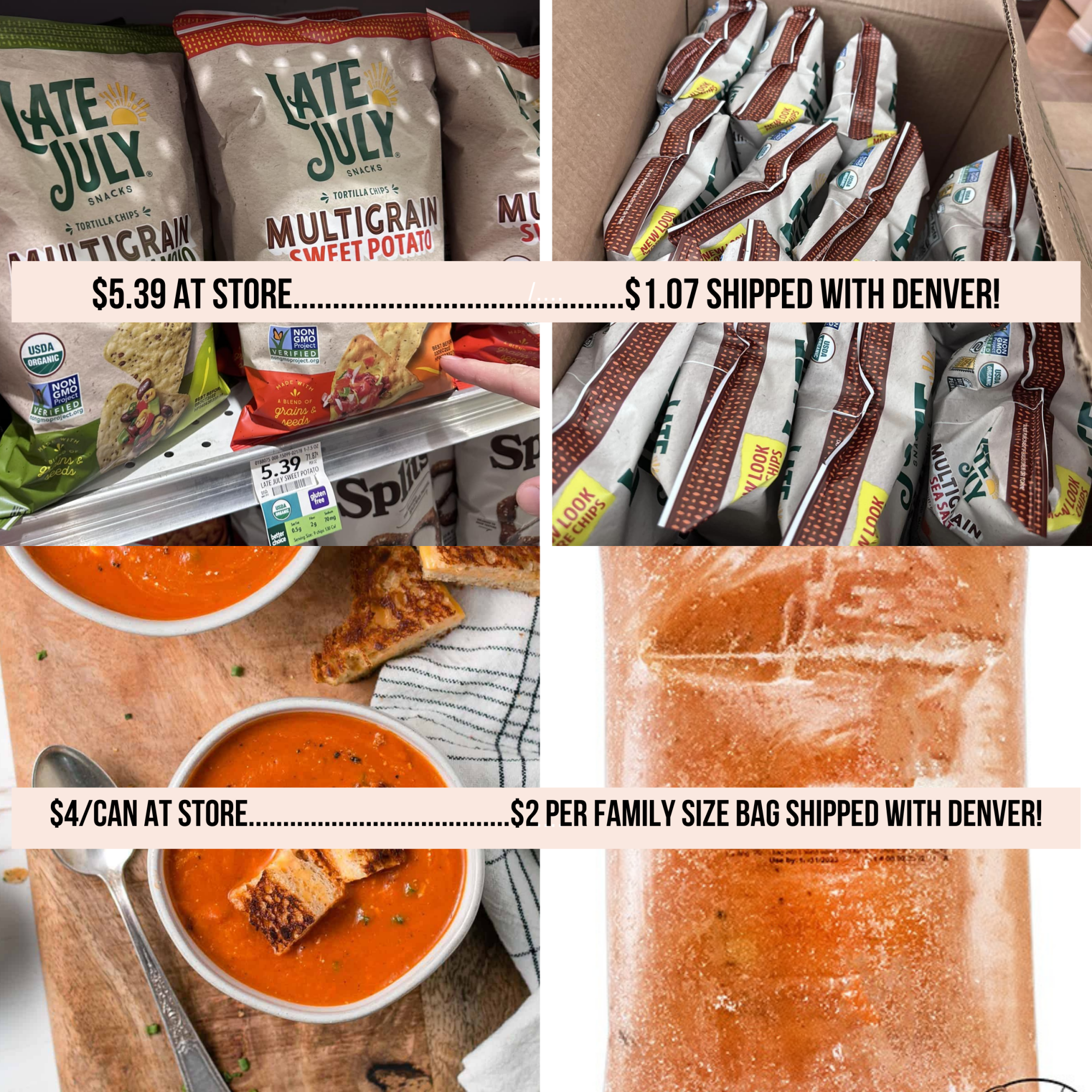 Is there an order minimum for me to participate in the co-op?
Is there an ordering obligation (I have to order every time) to be in the co-op?
No. There is no joining fee, either!
How does pricing work?
You will pay the price you see online; however that price does not include shipping, fuel charge, and coordinator admin fee. Shipping is priced based on pallets. Our orders are packed onto pallets and shipped here to our drop-off location. The more pallets we get, the less shipping is per pallet. So, the more families that participate and the larger our orders, the less overall shipping/fuel charge will come out to per family. On average, the above costs come out to 30% of the order total. So, to get a good estimate of your cost per item, multiply the cost of the item by 1.30. See my image above for an example. We call the price of the item + all additional costs outlined above the "landed price" for ease of reference.
How do I shop?
Registered members will receive a log-in to view the items available. Items are updated multiple times each day, so check often during our order window. You will only use this log-in only to see what's available to make your "list," not to place your order. To actually order, you will email Nancy, our coordinator via email. You will receive more detailed instructions on this after registration.
Our group will have a 1 week "ordering window" where we can email Nancy the items we want as the week goes on. Since Denver Wholesale adds items every weekday, it's great we get to order for a whole week!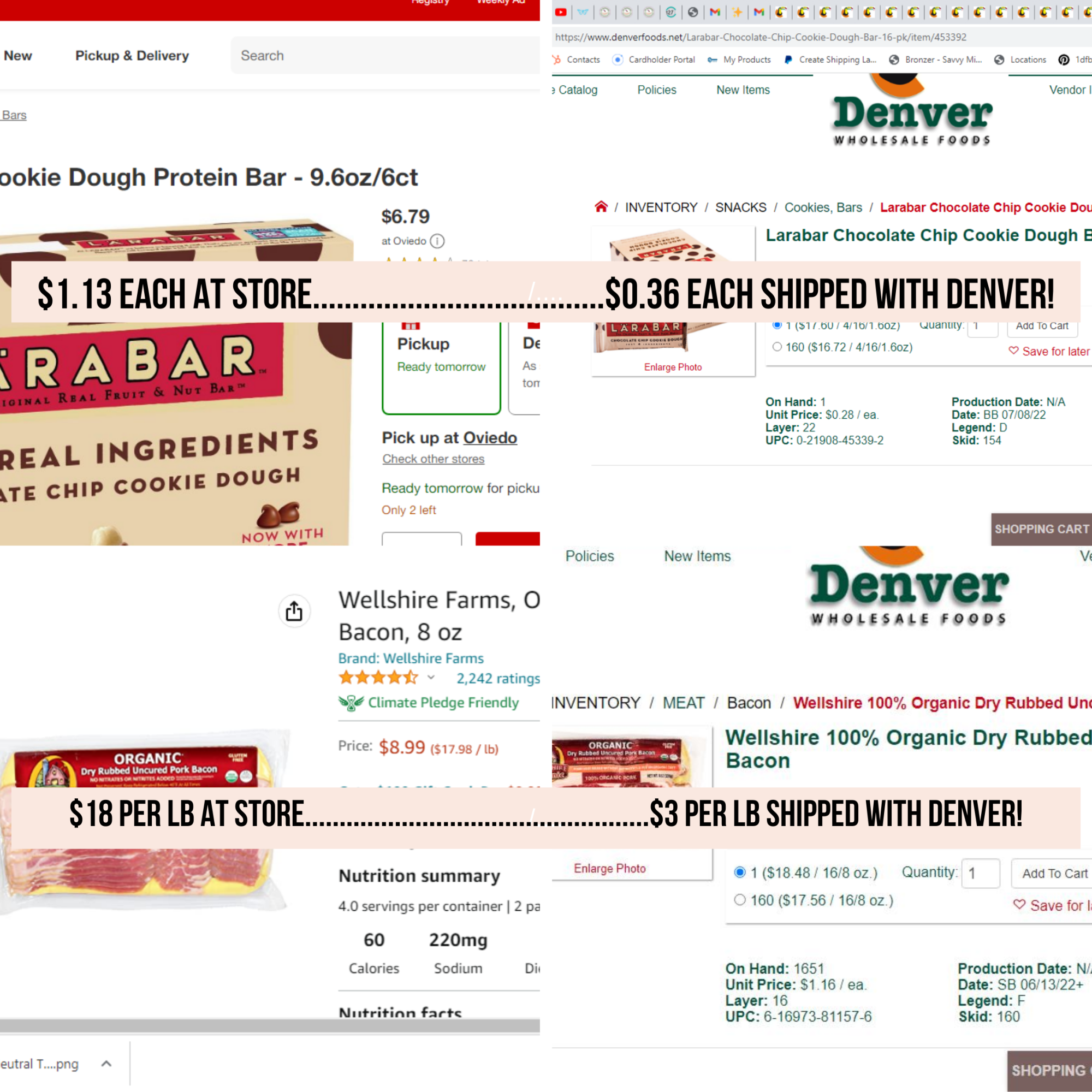 When can I shop?
We don't have regularly set ordering dates at this time. As we continue to grow, we will schedule orders based on the groups desires!
Please see the registration page for upcoming dates.
Can I check out the website before joining?
Please see the video attached *fyi this was recorded June last year, so dates are off* for a walk-through of the website.
Are all of the items specialty foods?
No. Denver Wholesale brings in foods in all categories. There are items intended for food service (like giant bags of breaded cheese sticks to throw in your air fryer) and foods intended for "regular" shoppers like regular sized boxes of kraft macaroni and cheese. They bring in organic, conventional, paleo, gluten free, and everything in between. They also get general merchandize items like batteries, candles, soap, and paper products. Participating families can order any variety/mix of items available.
How do I pay?
As a co-op, we must pay Denver Wholesale directly as one purchase. This is why we need a coordinator, why we order the way we do and why payment is as follows. You will send payments via Zelle to Nancy, our Co-op Coordinator. Payment will be due upon receipt of the invoice; please plan accordingly. Detailed instructions will follow once you're registered.
What if the fuel charges are more or less that estimated?
If they are more, you'll be invoiced for the adjustment. If they are less, you'll be refunded or credited towards your next order (you decide). The more people that order and the more we order, the lower our shipping/fuel costs will be.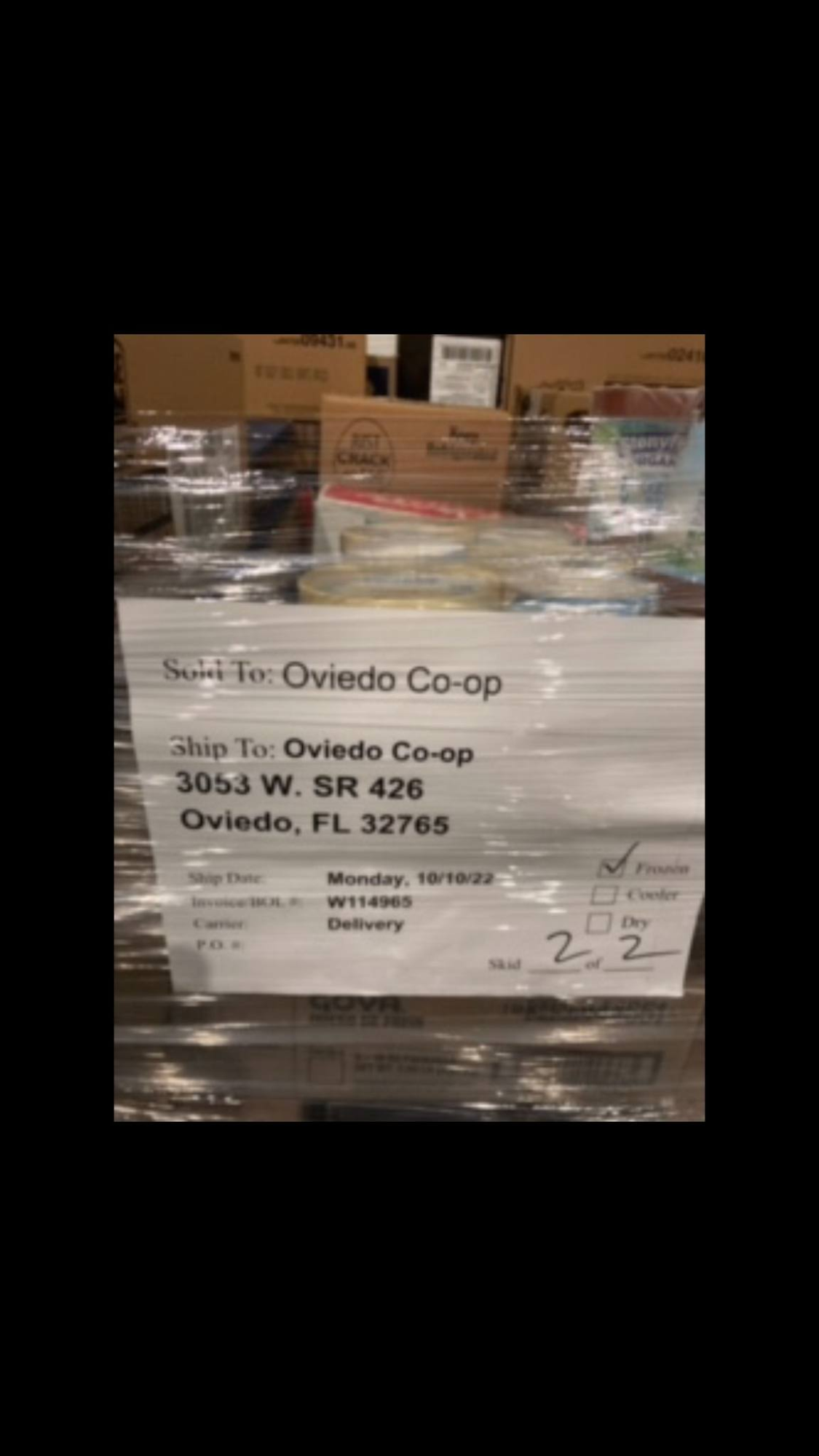 How will I get my order?
Our order will arrive on pallets to East Coast Believers Church in Oviedo, 3053 W SR426 Oviedo, FL 32765. Most likely it will be on a Monday. We will know ahead of time a time frame to accept the order, and when it's near we will contact you via email. Flexibility on pick up day is a requirement for participation, as we are subject to the truck arrival!
I want to participate! How can I join in?
Why is the food so cheap?
See the Denver Wholesale website for an explanation of where the foods are coming from. The most common reasons they have foods are overruns, which is when a supplier produces more of an item than they can sell at regular retailers. Rather than throwing it away for a total lost of their cost of the items, they will sell it to Denver Wholesale (and other companies like them) for cost or even less that cost to simply recoup at least part of their investment. Another common reasons items end up at Denver Wholesale is they are close to or just past their "sell by" date, yet still very safe and fresh. We can't buy those items from the grocery store, but we can buy them from here and for a deep discount.
What if I want something and it's just too much (like 12 boxes of cereal)?
You have options. Some items, you can freeze them to extend their life such as cheese, butter, meats, and even baking mixes. Another option is to split a bulk box with another family participating.
Who is running this thing?
Brittany Howell and Janelle Bass. We have asked a seasoned co-op leader, Nancy Kelly, to coordinator our ordering and to be a liaison with Denver Wholesale for us during our first year. Our group is paying Nancy 5% of our order total for her service. This set 5% is already worked into the estimated 30% described above under "pricing."
This is a cooperative, and we are all here to work together! The only paid person on the team is Ms. Nancy, who our co-op pays to coordinate the ordering with Denver Foods for us. That's it! Everyone is volunteer, so be kind and patient and look for ways to help out when you can!