Hello, January!
Happy New Year, friends! I cannot believe another year has come and gone. I hope and pray that 2022 brings peace, community, togetherness, and unity. May we all go into this season with a sense of gratitude for the things that truly matter. Cheers!
:::::::::::::::::::::::::::::::::::::::::::::::::::::::::::::::::::::::::::::::::::::::::::::::::::::::::::::::::::::::::::
Star or flag this message so you can refer back to it all month long!
You'll hear all about…
Monthly YL Gifts with Purchase

Instant Free Gift + Bonus Recipes

January Wellness Box Ideas

Important Announcements

Upcoming Events
Monthly Gifts with Purchase
When your order hits one of these PV levels you will receive the corresponding products for FREE! Look at everything you get for free when you hit 300 PV!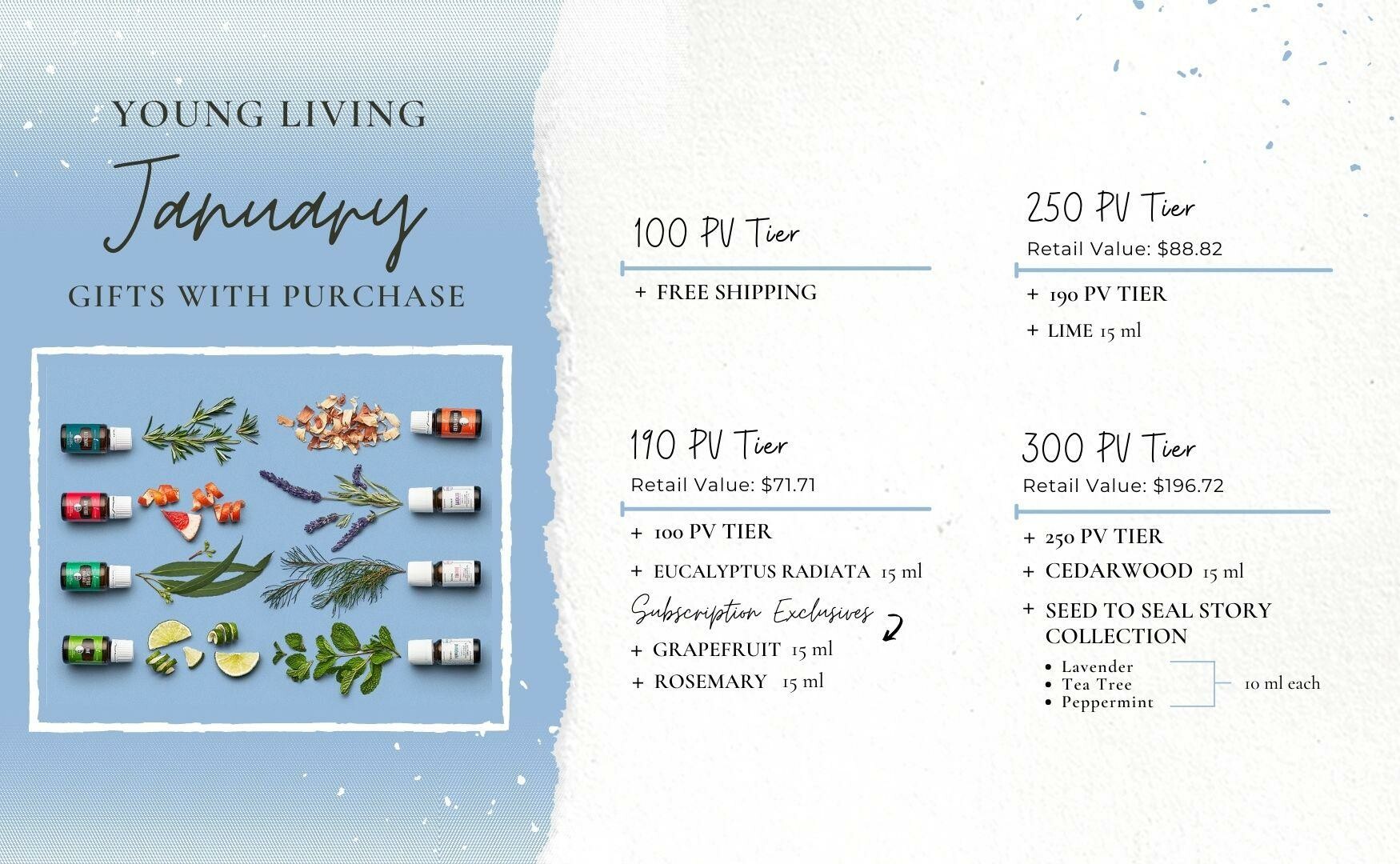 *Receive the Subscription Exclusives when your order is placed through the monthly subscription program, which is the best way to save money and support your health. If you need more details on this, let me know!
These are all the things you got for FREE if you were received Loyalty Rewards (Monthly Wellness Box) last year. Can't wait to see all that comes this year!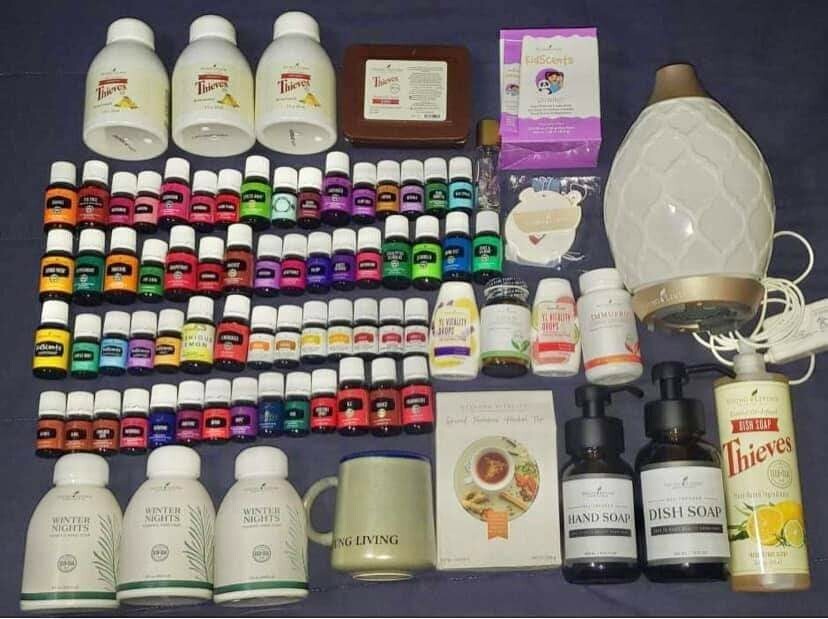 Oh, and did you get your free printable gift? If you didn't, here it is again!
Print it out customize for YOUR wellness goals!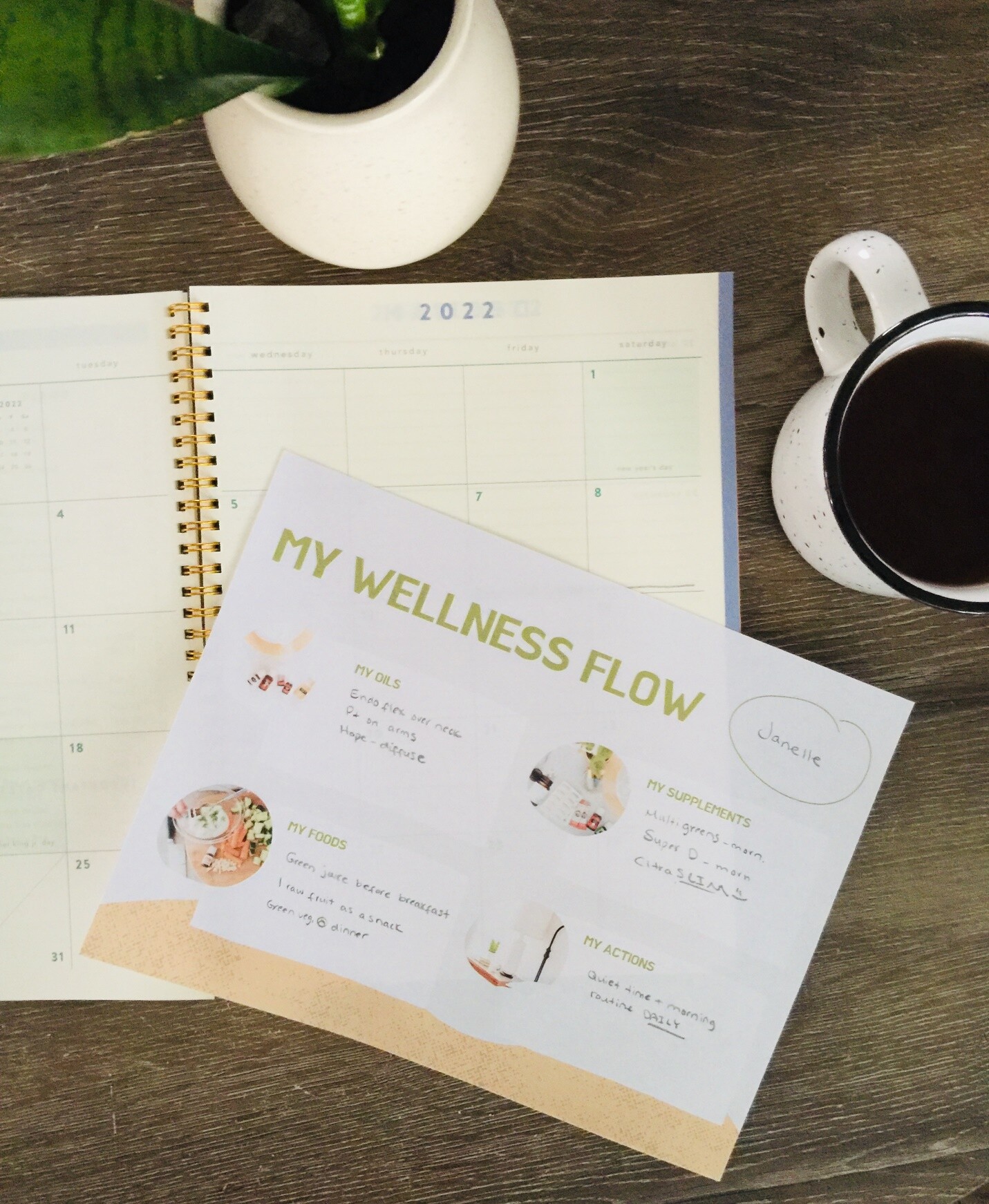 BONUS RECIPES
The holidays may be coming to an end but the fun doesn't have to stop there! Keep things festive in the kitchen with your Vitality oils. Try adding a drop or two of your favorites to some hot chocolate on those chilly nights. Like this…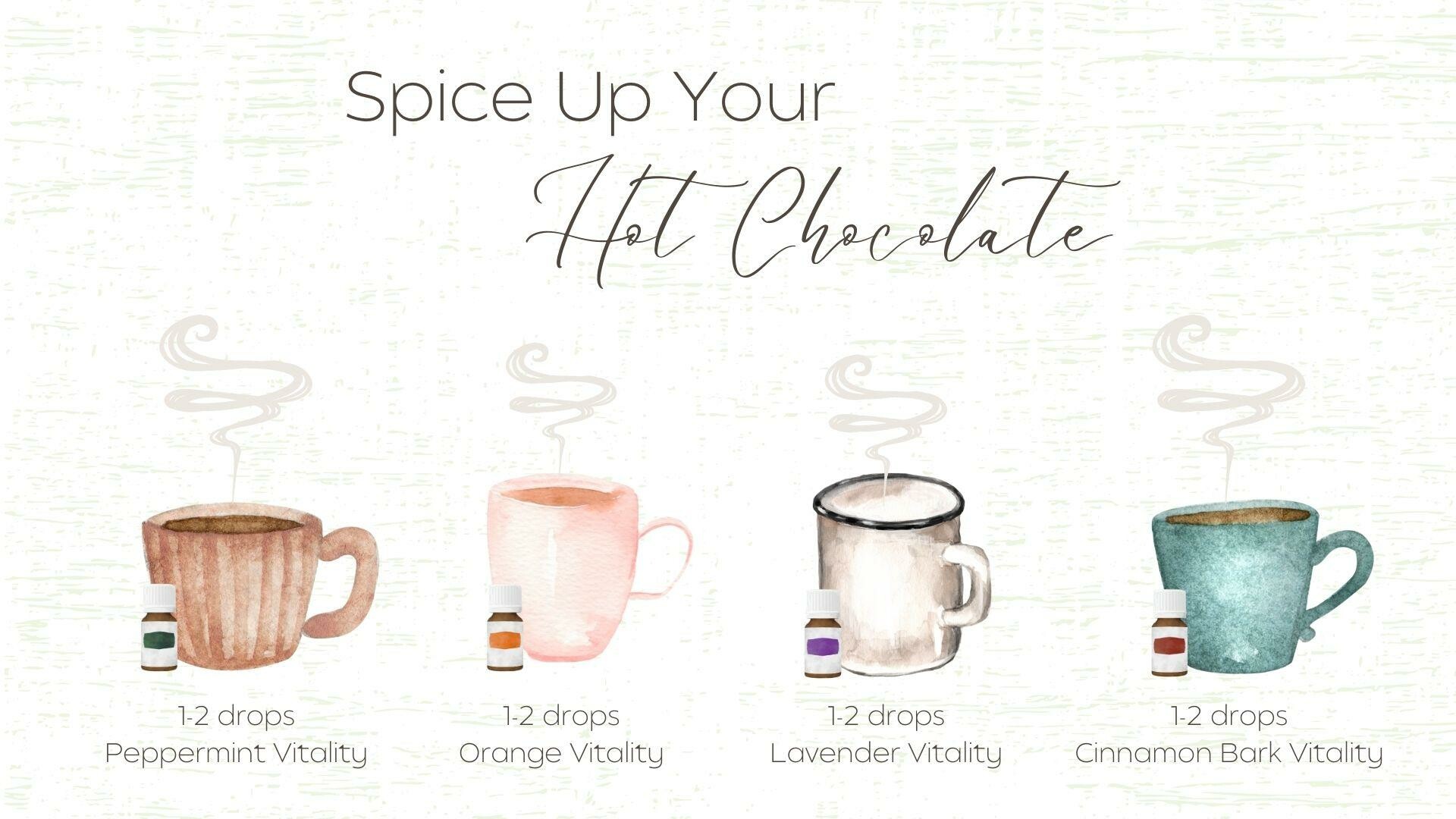 What are these oils good for?
Peppermint Vitality

- promotes healthy bowel function, supports gastrointestinal system comfort, and adds a fresh, minty flavor to food and beverages. We use it for headaches, energy, concentration and breathing!

Orange Vitality

- provides digestive and immune support when taken as a dietary supplement. It can also be added to foods and beverages to impart a sweet citrus flavor to your favorite dishes. We use it for mood, sleep, and mindset!

Lavender Vitality

- contains antioxidants and may provide immune support when taken as a dietary supplement. It can also be added to foods and beverages giving a delicate, floral flavor that combines well with citrus and herbs. We use it for relaxation, allergies and sleep!

Cinnamon Bark Vitality

- contains antioxidants and may provide immune and general wellness support. In addition, it can be used to add a familiar, warm and spicy flavor to your favorite foods and beverages. We use it for inflammation, pain and colds!
January Wellness Box Ideas
Young Living is more than just essential oils. It's a gateway to a lifestyle filled with wellness, purpose, and abundance. Start this new year off fresh! If you haven't ditched the toxins in your home - do it now! Start with one room and tackle one area at a time. Then set up a wellness box to arrive at your doorstep with safe replacements.
Simply log into your account, find the items you want, and click "Add to Subscription." Add at least 50 PV to your subscription box and you'll earn points to spend on future one-time orders! Add at least 100 PV to your subscription box and you'll earn points + get free shipping!
You can choose to have those items arrive monthly OR stretch them out to every two or three months - up to you. Don't want them in your box anymore? No problem! Just delete them and add in what you DO want. It's simple and completely customizable. Here are some ideas for your January box…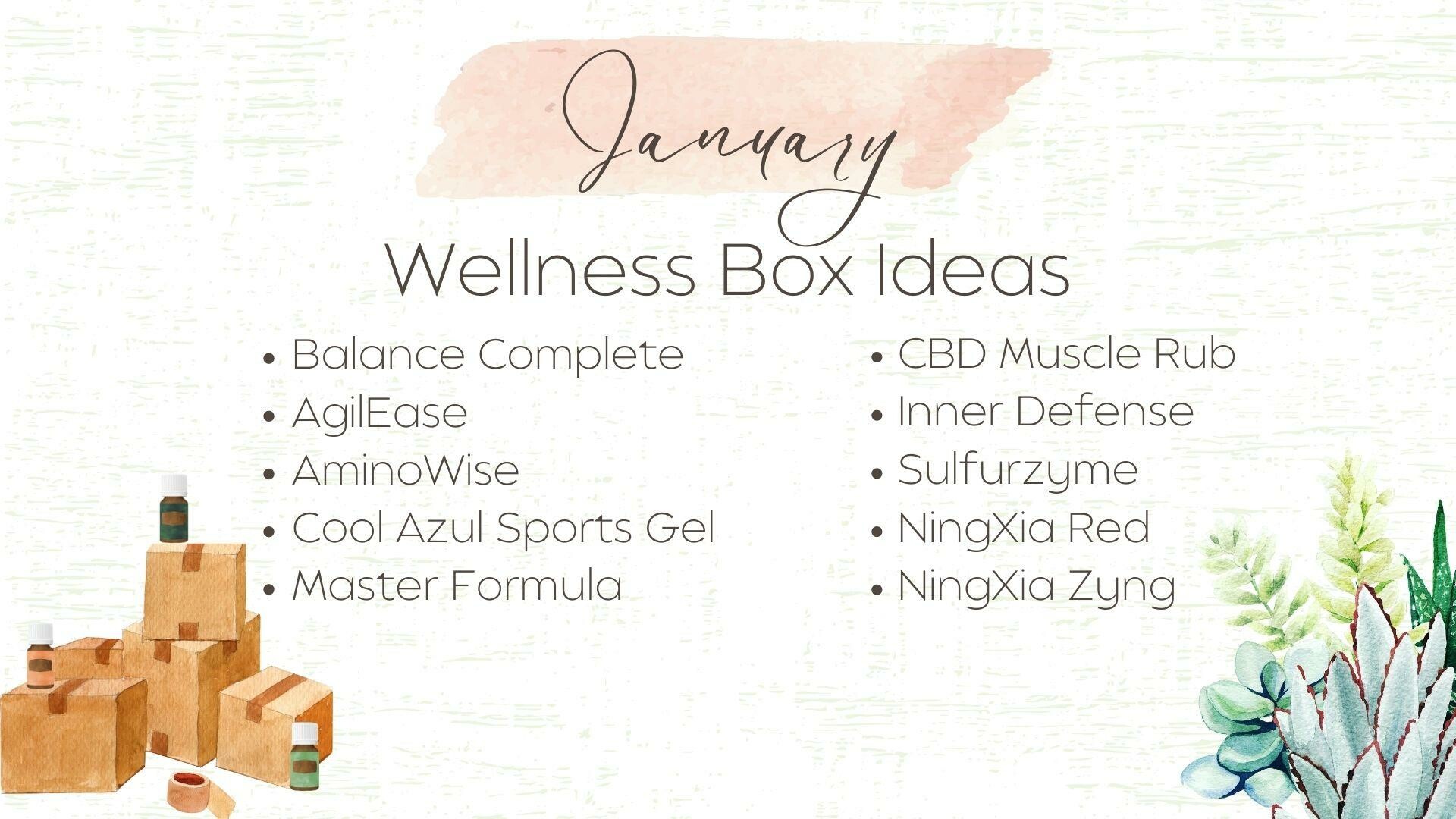 Need to know more about any of the above? Search Grace & Oils FB Group, or post on the discussion board!
Important Announcements
Have you signed up to receive texts from Young Living? Get the latest news, limited-time offers, DIYs, new products, and more. Text YLTEXT to 30299 to get started. Already opted in? You can still update your preferences to tailor your texts get the content you're looking for by texting UPDATE to 30299. You can even get these in Spanish! Opt in by texting USLATINO to 30299 or can go to http://yl.youngliving.com/US-Latino-text.html to subscribe.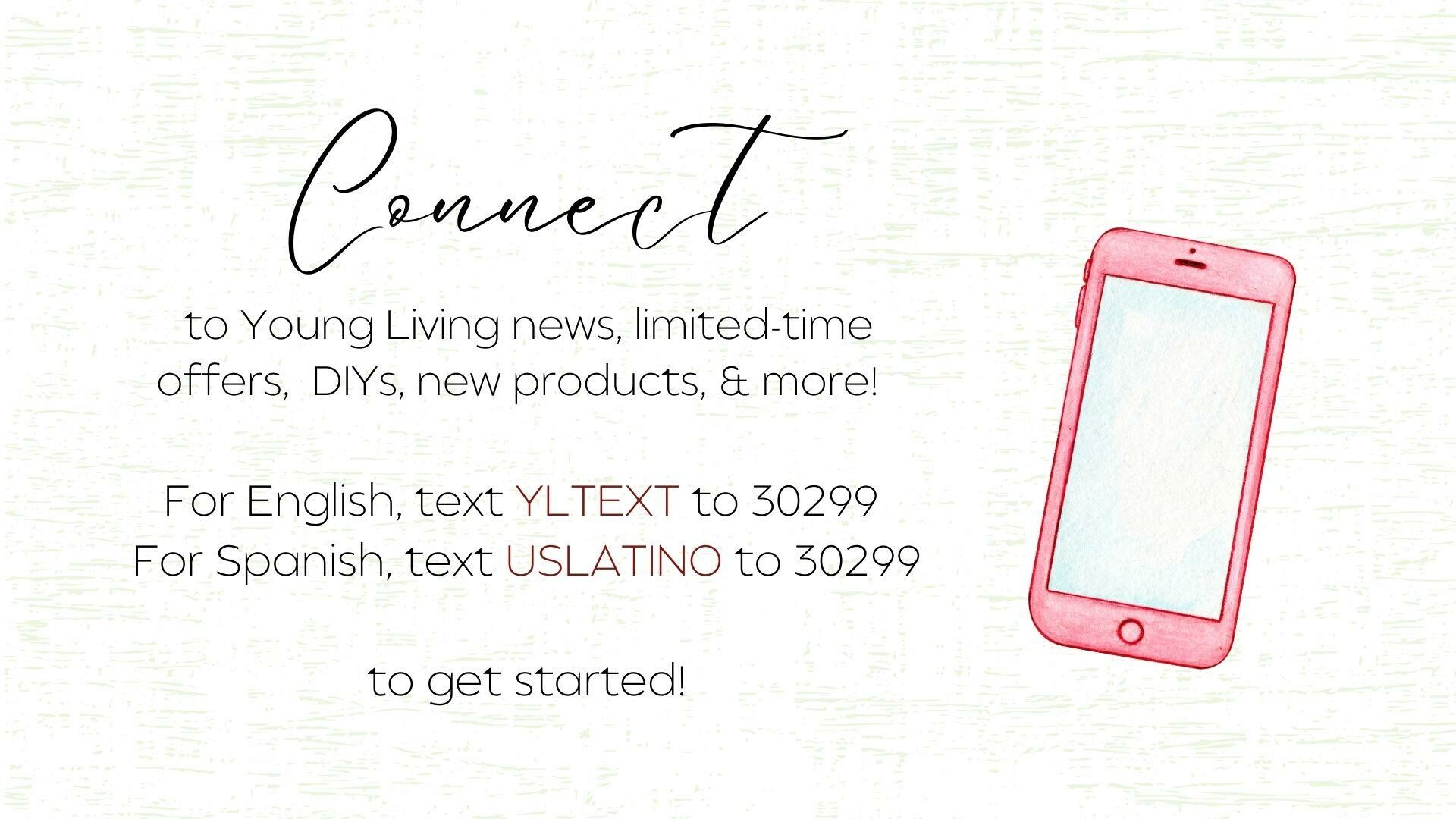 UPCOMING EVENTS & CLASSES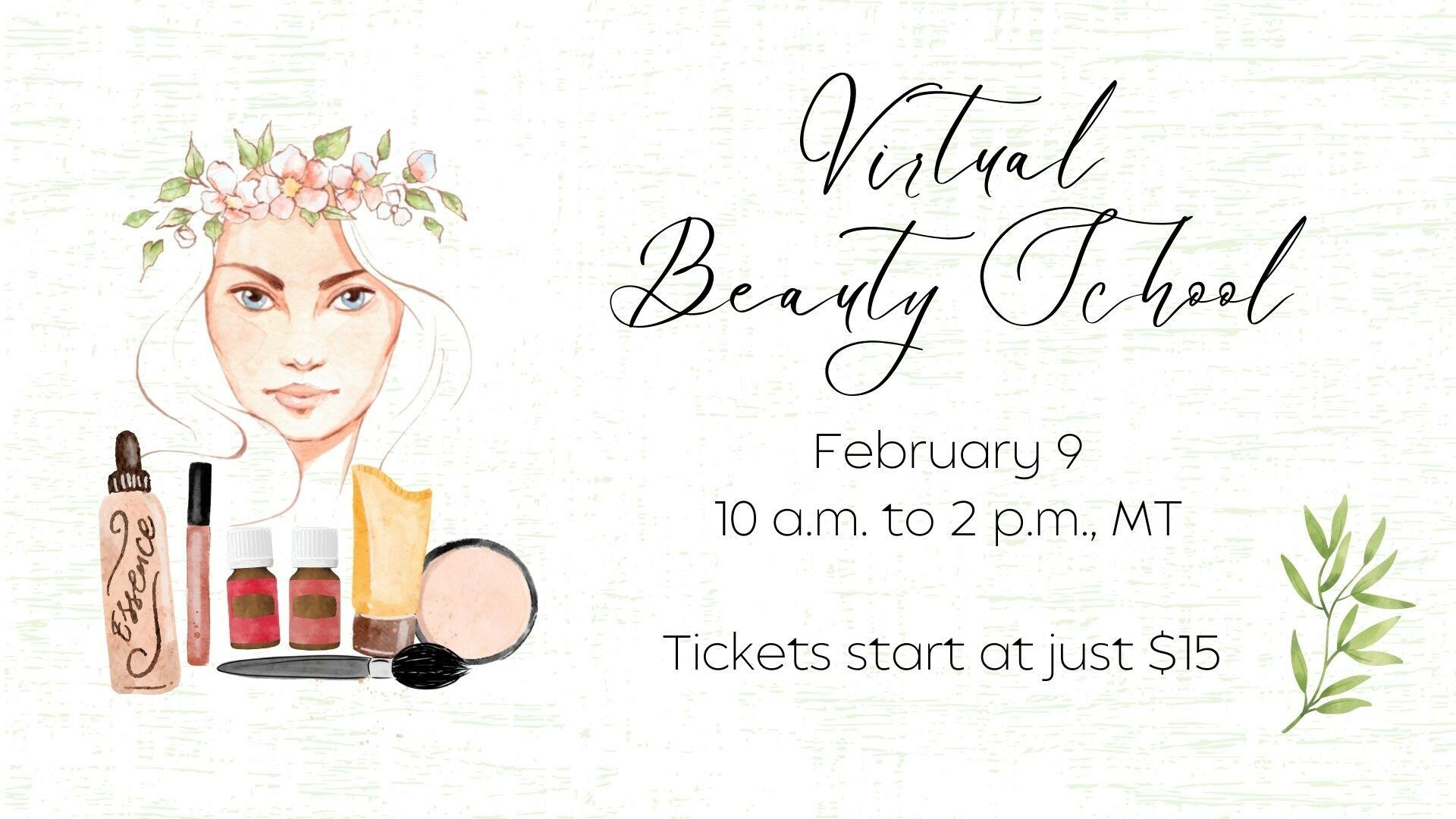 Join us for a deep dive into Young Living's ART, Savvy Minerals, and KidScents lines; learn social media time-savers to expand your influence; and hear tried-and-true tips from successful brand partners. You'll also learn how to whip up healthy einkorn treats for those busy days when you need a little extra energy. To join in on the fun, first customize your experience by selecting the ticket you want, then visit Young Living's Beauty School Facebook page on February 9 to watch the event. Go here to choose your ticket and register: https://web.cvent.com/event/4a144d9d-1f51-459f-9eed-a98f4961604e/summary

It's time to kick your fat-burning into high gear so you can feel energized and powerful!
Are you feeling...
unmotivated or sluggish?

confused on "where to start" to trim your waist?

unable to control your appetite or cravings?
and you are ready to feel strong and energetic?
Then join our 15-day Slique Challenge.
Let's kickoff of our Vision Book Study we are going to be doing this month to set the stage for an amazing 2022!
You'll want to grab this book, if you don't have it already, from Growing Healthy Homes (use code NEWYEAR22 thru 1/2 for 20% off) & join us beginning Monday Night, January 10 as we use this book to help us create our Vision for this next year with what the Lord speaks to each of us. We'll spend our time each Monday night in January on our Monday Night Lives on a week of this book (it's a 4-week study).
**Monday Night Live Zoom Link -- **
Meeting ID: 924 9519 0438
Passcode: 707070
Jan. 3 -- *AromaFreedom Technique with Affirmation Card Giveaway *
Jan. 10 -- Vision: An Aromatherapy Bible Study
Jan. 17 -- Vision: An Aromatherapy Bible Study
Jan. 24 -- Vision: An Aromatherapy Bible Study
Jan. 31 -- Vision: An Aromatherapy Bible Study
Buy the book here and use NEWYEAR22 through Sunday for 20% off.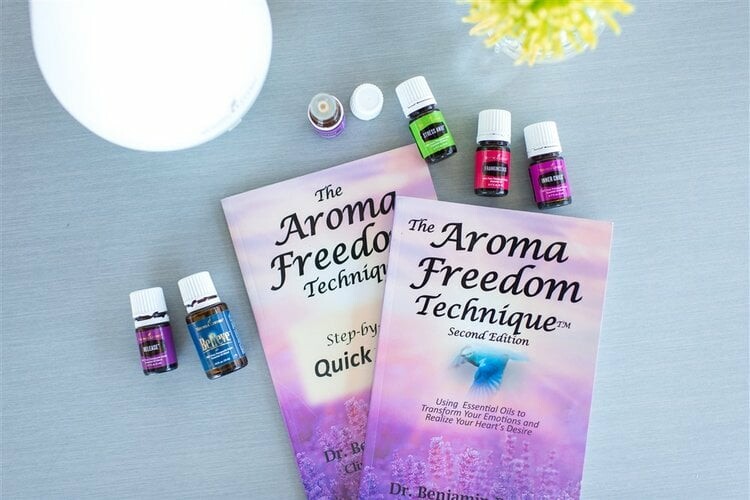 Also remember that every ** Wednesday at 1:00pm ET**, Laura Hopkins will be hosting Wellness Wednesday on Zoom and leading those interested in the Aroma Freedom Technique (AFT). You can access that at the following link --
Meeting ID: 924 9519 0438
Passcode: 707070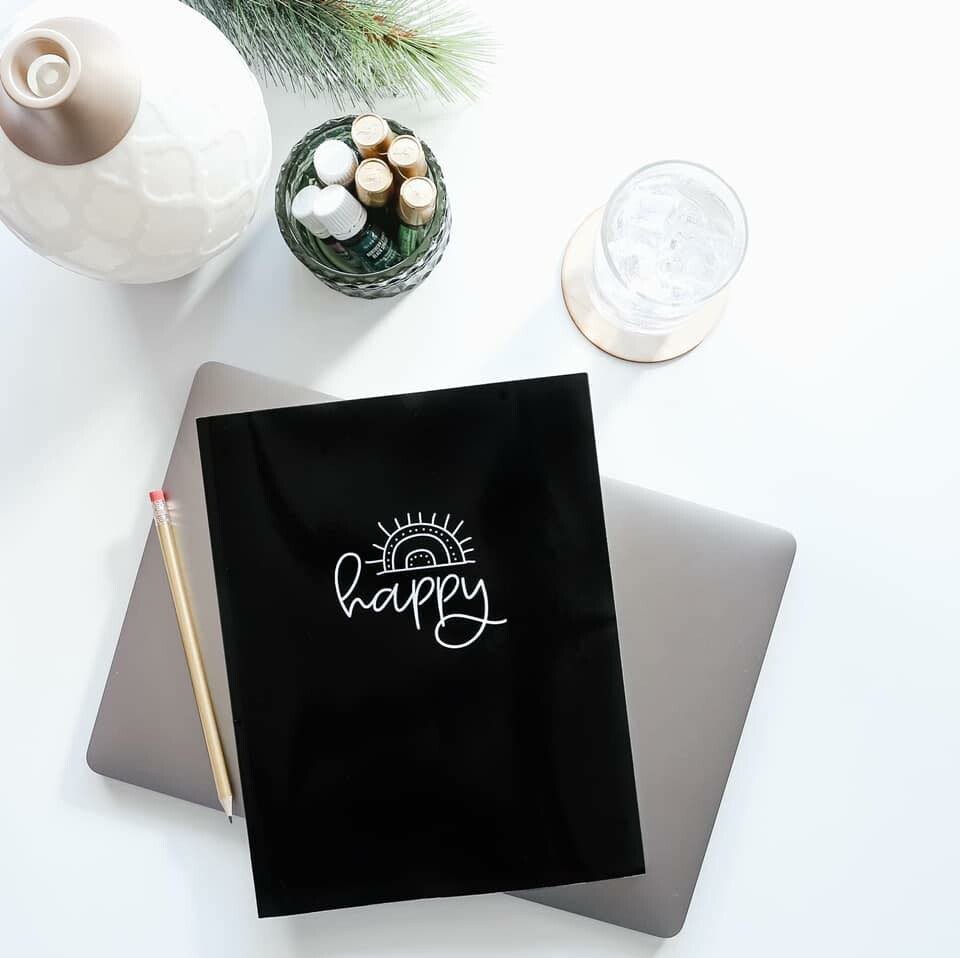 Our emotions affect and guide our entire body. But what exactly are they? And how can we balance them? This time of year, and this year in particular, emotions are running high. Grief, anxiety, depression, overwhelm ... can all be intensified over the holidays. Now add the past two years to that. Some healthy emotional balancing would be great, wouldn't it!? We will discuss how to do so by addressing sleep, mindset, habits and plants to help. We will dive extra deep into how to utilize plant oils to impact your limbic system and balance emotions super simply. After completing this class, you'll have multiple options for steps you can take to balance healthy emotions!
Posts and videos will be numbered so you can watch and learn at your own pace.
And of course, we will have a giveaway!
Join Emotions and Essential Oils here!
Monthly Giveaway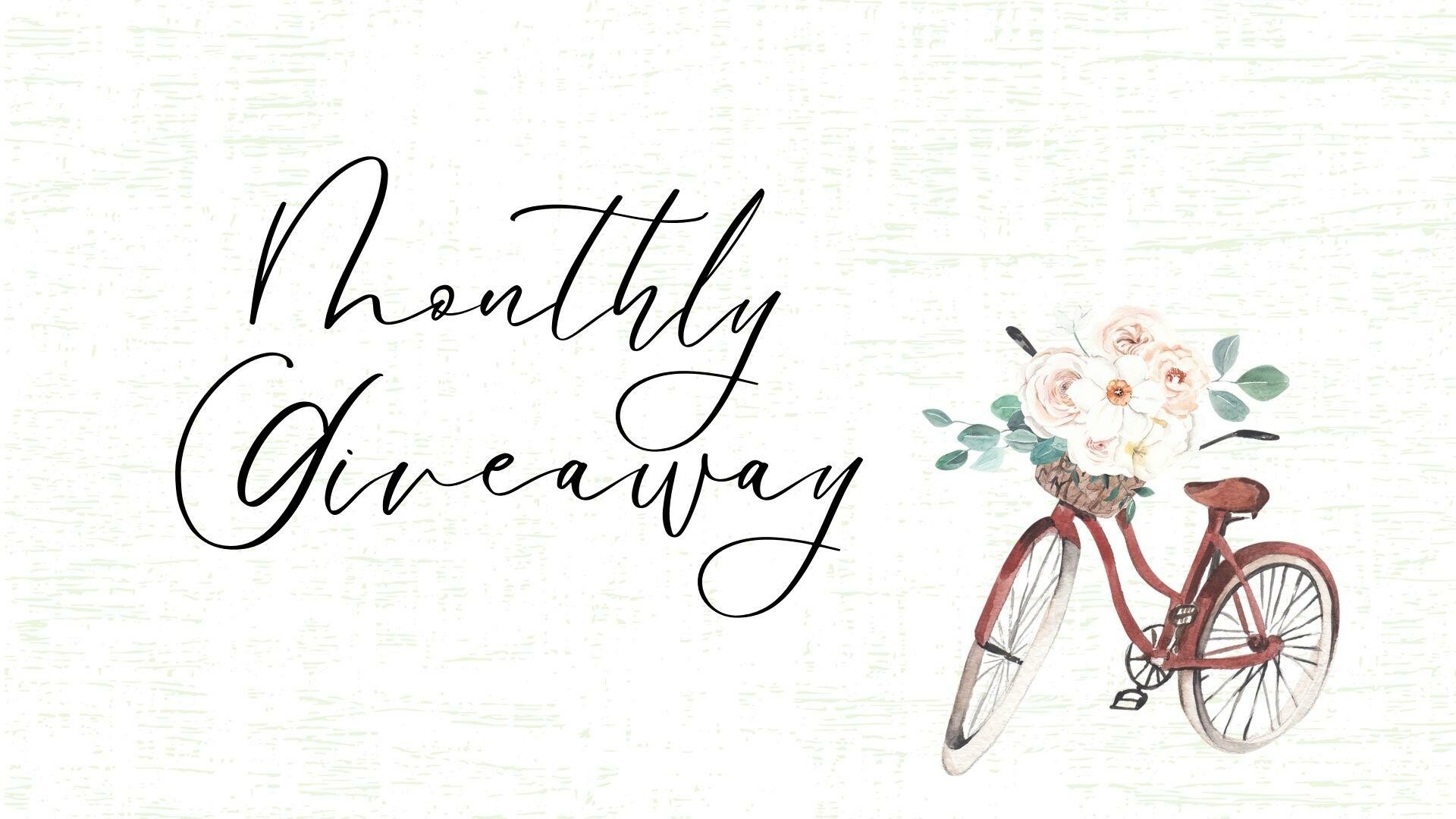 Ready for our giveaway this month? This month, if you attend a Grace & Oils LIVE video....whether streamed on Grace & Oils group or in a class we host (like the emotions class linked above) you'll be entered to win an oily product! Don't miss any of our amazing education opportunities!
Well, that's all for now friend!
See you in the group!